NEWS
2022 Boditech Med Photo Contest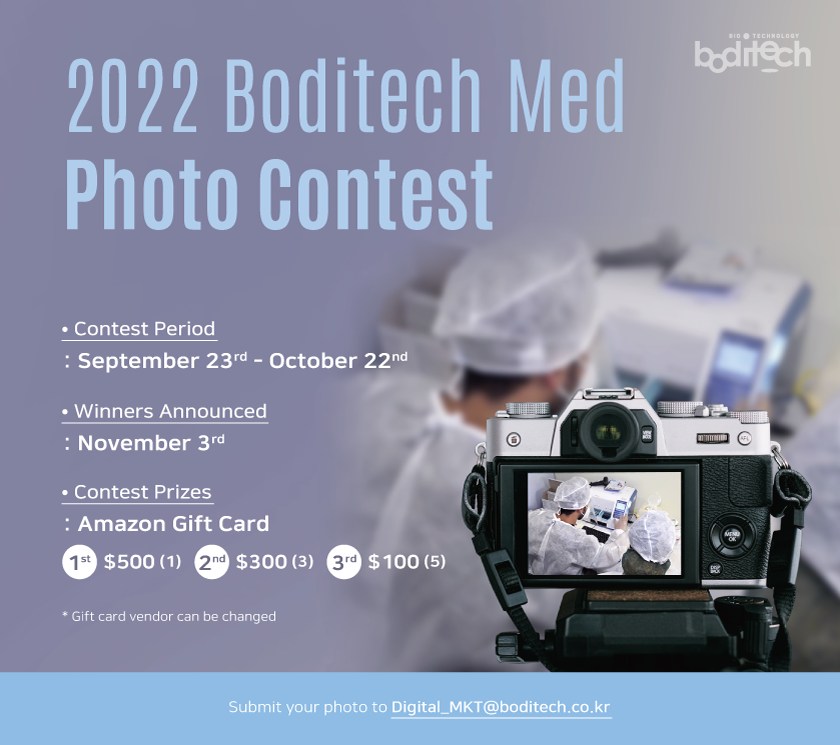 Boditech Med invites you to enter your photographs of Boditech Med's IVD Solutions to our Photo Contest.
This competition is open to all Boditech Med's partners and end-users. Boditech Med will select 9 winners who will receive the Amazon gift cards. Three awards will be given $100, $250 and $500 for 5 winners, 3 winners, 1 winner, respectively. Submissions must be made by October 22nd 2022, and the winners will be selected and announced November 3rd 2022.
Winners Receive Amazon Gift Cards!
1st : $500 (1), 2nd: $300 (3), 3rd : $100 (5)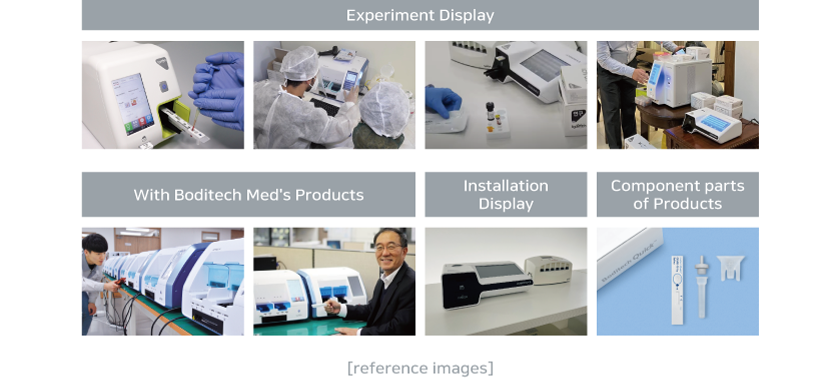 Submit all photos to Digital_MKT@boditech.co.kr


* All images must be taken by the person submitting the image, all submissions will be eligible to be published by Boditech Med Marketing in online channels such as website, social media or in print.


Photo Guidelines
- Images of Boditech Med's Products (close-up shot of the product, experiment display, installation display, a picture with our products, and etc)
- Background of the image should be clean
- Minimum size of photos: 1200 x 900 pixels (the higher pixels & resolutions, the better)
- A moment that Boditech Med's products are being used to improve your business or life at hospitals, labs, clinics, emergency rooms, health care centers, screening facilities, and etc
- Content that promotes Boditech Med's products or services
Rights Granted by You:
By entering this photo contest (e.g., photo, video, text, etc.), You understand and agree that Boditech Med, anyone acting on behalf of Boditech Med, and Boditech Med licensees, successors, and assigns, shall have the right, where permitted by law, to print, publish, broadcast, distribute, and use in any media now known or hereafter developed, in perpetuity and throughout the World, without limitation, your entry, name, portrait, picture, voice, likeness, image, statements about the campaign, and biographical information for news, publicity, information, advertising, public relations, and promotional purposes. without any further compensation, notice, review, or consent. Also, you represent and warrant that your entry is an original work of authorship and does not violate any third party's proprietary or intellectual property rights. If your entry infringes upon the intellectual property right of another, you will be disqualified at the sole discretion of Boditech Med .
All entries must be emailed to Digital_MKT@boditech.co.kr, including the following information.
- Company Name, Your Name, Product Name & location
- Short Description of the images or videos
- Personal Information Consent From with Your Signature


Click here to download Personal Information Consent From
*You can also check Boditech Med's Privacy Policy here

Any questions please do not hesitate to contact us at the above email.
Good Luck,
Boditech Med Marketing Department.