PRESS RELEASE
Boditech Med had a grand opening ceremony for the new R&D Center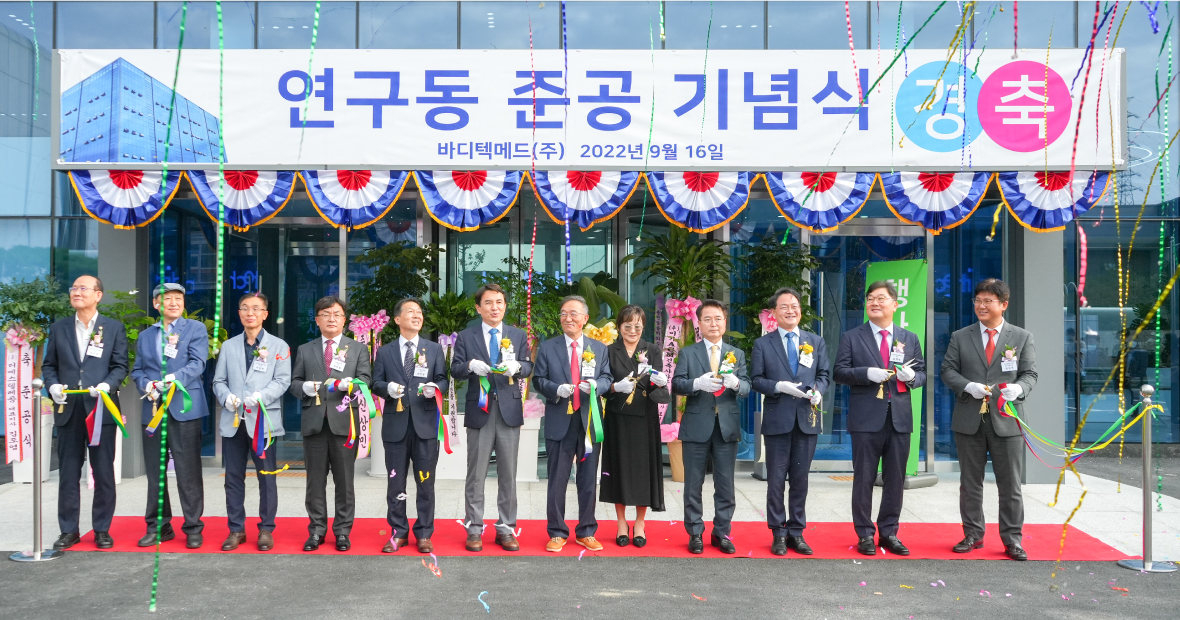 - $8.7 million investment into the New R&D Center with five ground levels and 6600㎡ wide in land area
- A world-leading R&D center with latest clinical trial equipment
- Including new gym facilities and rest facilities for employees and exhibition area for visitors

We are proud to announce that Boditech Med had a grand opening ceremony for the new R&D center, situated at Boditech Med's HQ in Chuncheon, South Korea on September 16th, 2022. With this new R&D center, Boditech Med is planning to become a global IVD company. We successfully finish the grand opening ceremony with diverse participants such as Jin-tae Kim, the Governor of Gangwon Province, Young Huh, member of the National Assembly of the Republic Korea, and Dong-han Yuk, the Mayor of Chuncheon-si, Jiwook Yoo, Director of Chuncheon Bioindustry Foundation, Sangcheon Lee, Director of Ministry of SEMs and Startups.

Investing USD 8.7 million, the new R&D center is 5 story high with 6600㎡ total floor area. In addition, Boditech Med's R&D center has the latest clinical trial equipment including ultrapure water systems and spectrophotometer. 300 of employees including 120+ researchers with advanced degree in biology will work at the New R&D Center. The researchers will be focusing on developing new products and improving performance of our IVD solutions.
Boditech Med provides 85 of IVD solutions for infection, diabetes, cardiac, cancer and hormone. In addition, we are striving development additional TDM solutions to expand TDM products lineup. In addition, we started developing new IVD solutions for pepsinogen, gastrin, and TORCH. We are planning to expand its business into general hospitals and community health center.

The new R&D center includes new gym facilities for physical training and everyone at Boditech Med can take a rest at the rest facilities with diverse beverages. And visitors can see the history of Boditech Med at the exhibition area at 1st floor. With the new R&D center, we are planning to produce cartridges more than 150 million per year utilizing the previous R&D center with 3100㎡ total floor area as cartridge production facility. We have been working on expanding production facilities since July last year, as the need of IVD solution has rapidly increasing.

Eui-yeol Choi, CEO of Boditech Med, said, "Boditech Med has a world-leading R&D center including latest clinical trial equipment. With continuous R&D investment and development of new IVD solutions with innovative technologies, Boditech Med will become a global IVD company realizing the value of respect for life and improving quality of life across the world.