PRESS RELEASE
Boditech Med become the first POCT company getting approval for domestic use of TDM product by MFDS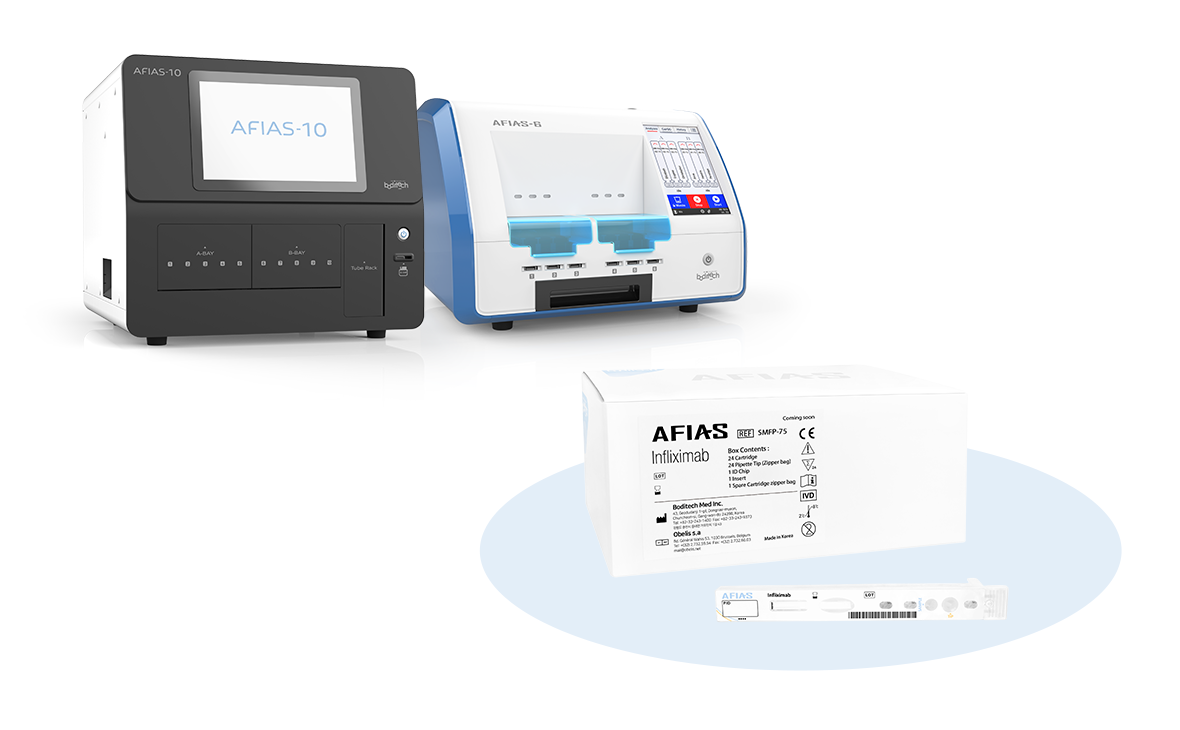 - MFDS Approval for in-vitro diagnostics of TDM to measure infliximab levels for patients with immune mediated inflammatory disease

- User friendly solution for each patient's personalized treatment plan and monitoring patient's safety
- Have been developing numerous additional TDM products targeting the global companion diagnostic market


It is expected that the levels of treatment satisfaction of domestic patients suffering from rheumatoid arthritis, ulcerative colitis, and Crohn's disease will increase while the patient's financial burden will decrease.
We are excited to announce that Boditech Med acquired approval from the MFDS for domestic use of AFIAS Infliximab, a therapeutic drug monitoring (TDM) diagnostic kit that measures the blood concentration of drugs for immune mediated inflammatory disease. This is the first POCT company who acquired approval of TDM products in South Korea.

Therapeutic drug monitoring (TDM) measures the concentration of drugs in patients' blood, and tests to confirm whether it is within a therapeutic range. According to the Korea Medical Device Safety Information Service, the global companion diagnostics market is expected to grow from $2.56 billion in 2019 to $8.34 billion in 2024. It is an area of great interest recently, showing an average annual growth rate of 26.5%.

The AFIAS Infliximab, approved April 29th, is an in-vitro diagnostic medical device that measures the blood concentration of Infliximab (product names: Remsima, Remaroche, Remicade) used for rheumatoid arthritis, ulcerative colitis, Crohn's disease, and psoriatic arthritis treatment.

Prior to AFIAS Infliximab, it used to take two or three weeks to get a test result after collecting samples from patients. And then clinician could make a decision for treatment plan. However, the whole process has been changed with Boditech Med's AFIAS Infliximab. It is an ultimate solution for personalized treatment as AFIAS Infliximab is a point-of-care test (POCT) product that enables the clinician to check the patient's drug concentration immediately before administering infliximab and helps to make a quick treatment decision. It takes only 10 minutes to get a test result with user-friendly platform with using whole blood.

Boditech Med has been striving to secure a new long-term growth plan with TDM products for the personalized treatment of autoimmune and targeted anticancer drugs. It is expected that the demand for companion diagnostics will increase as the global biologics market has been expanding rapidly. Following the launch of TDM diagnostic kits for infliximab, adalimumab, and golimumab, Boditech Med has been developing diverse TDM diagnostic kits for various other autoimmune and anticancer drugs.

Eui-Yul Choi, CEO of Boditech Med said, "With the approval of AFIAS Infliximab for domestic use, it is hard to deny that the possibility of personalized treatment for ulcerative colitis, Crohn's disease, and rheumatoid arthritis patients has increased." He continued, "We will launch various TDM diagnostic kits for autoimmune and anticancer drugs to target the global companion diagnostic market."