PRESS RELEASE
Boditech Med acquired approval for domestic use of AFIAS COVID-19 antigen diagnostic kit from MFDS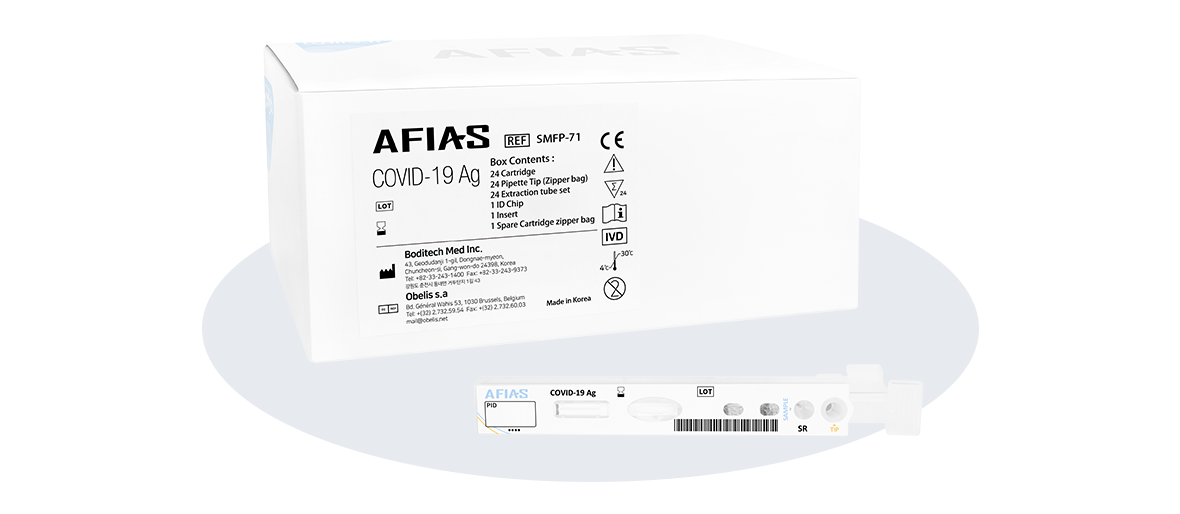 Boditech Med (CEO, Choi Eui-yeol) announced that AFIAS COVID-19 Ag has obtained approval for domestic use from Ministry of Food and Drug Safety (MFDS). It can diagnose the SARS CoV-2 virus within 12 minutes.

As the ichroma™ COVID-19 Ag test has obtained approval from MFDS on July 13th, Boditech Med has completed the approval of two diagnostic kits for SARS-CoV-2 virus antigen.

Boditech Med provides two diagnostic platforms for point-of-care; AFIAS and ichroma™. AFIAS is an automated POC test that maximizes user convenience and is suitable for use in mid-to-large-sized hospitals and screening clinics. AFIAS is already being used in various emergency tests such as infectious diseases, norovirus (AFIAS Noro) and rotavirus (AFIAS Rota) in large domestic hospitals, infection monitoring in neonatal intensive care units (NICU), and cardiovascular disease screening (e.g., D-Dimer, Tn-I Plus, NT-proBNP, CK-MB, and Myoglobin etc.). ichroma™ is a small diagnostic device that can perform simple and diverse tests in a specialized laboratory, nursing hospitals, and small hospitals.

A company official said, "The two rapid antigen diagnostic kits approved this time are products that can detect not only delta variant but also lambda variant among SARS-CoV-2 mutants with high accuracy. As the viral variants are spreading in Korea, it is expected that it will be widely used for screening purposes."