PRESS RELEASE
Boditech Med, Obtains Export Permit for the Biomarker 'PenKid' for Acute Kidney Injury Diagnosis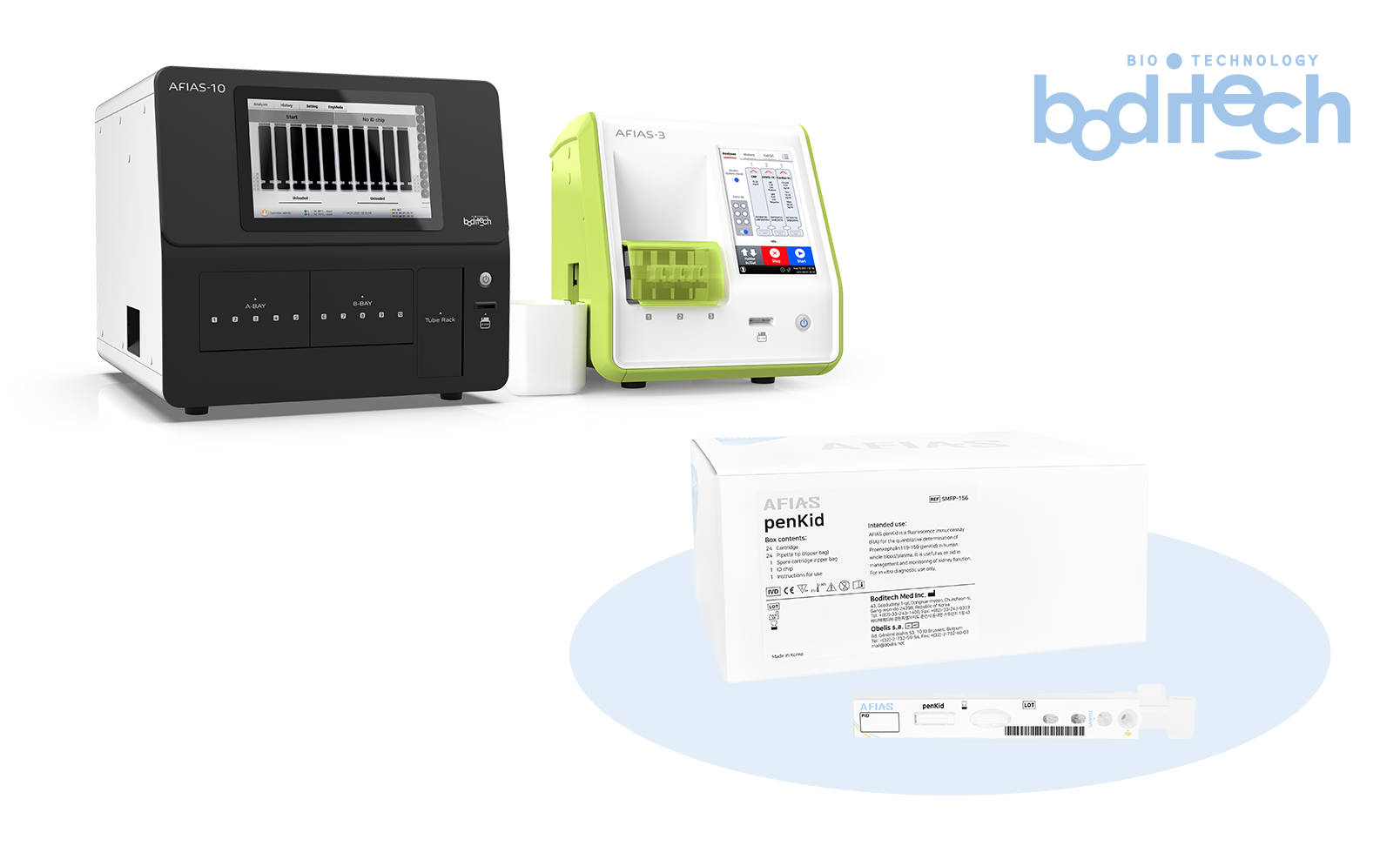 - Obtained an Export Permit for PenKid, which enables a rapid diagnosis of acute kidney injury within 15 minutes.
- An indicator that allows for faster and more accurate assessment of kidney injury compared to traditional diagnostic methods.
- In late August, Boditech Med and Spingotech signed a market development agreement and initiated joint efforts to expand the market.
Boditech Med, a specialist in on-site diagnostics (CEO Eui-yul Choi), has announced that it has obtained export approval for 'penKid' (product name: AFIAS penkid), a product that can quickly diagnose acute kidney injury within 15 minutes, from the Ministry of Food and Drug Safety.
Boditech Med had signed a non-exclusive license agreement for 'Proenkephalin A 119-159 (penKid)' in November of last year with Sphingotec GmbH, a German bio-marker specialist. Sphingotec is a provider of innovative biomarkers required for predicting and diagnosing acute severe diseases such as acute heart failure and acute kidney injury and holds exclusive rights to biomarkers related to sepsis.
Acute kidney injury occurs in over 13 million new patients worldwide each year. PenKid, compared to the conventional diagnostic method (measuring serum creatinine concentration), has the advantage of being able to detect injury a day or two days earlier and provide more accurate results. It can also replace the previous method, which is not applicable to unstable patients, and quickly provide information on kidney function recovery during renal replacement therapy for severe patients.
The two companies have been working closely together to enter the market at a rapid pace, including obtaining export approval today, about 10 months after the non-exclusive license agreement was signed at the end of last year. In particular, the Market Development Agreement (MDA) signed by the two companies at the end of August contains contents related to strengthening the partnership between the two companies and mutual use of the global network and is expected to be of great help in spreading new biomarkers in the market.
Eui-yul Choi, CEO of Boditech Med, said, "The penKid diagnostic product is an innovative product that can replace the conventional diagnostic method in the acute kidney injury diagnosis market. It is expected to make a significant contribution not only to rapid diagnosis of over 13 million new patients worldwide but also to improving the management of severe patients. In the future, we will continue to strengthen cooperation on various diagnostic products related to severe diseases held by the Sphingotec Group."