PRESS RELEASE
Boditech Med has acquired the export license of Free T4 diagnostic kits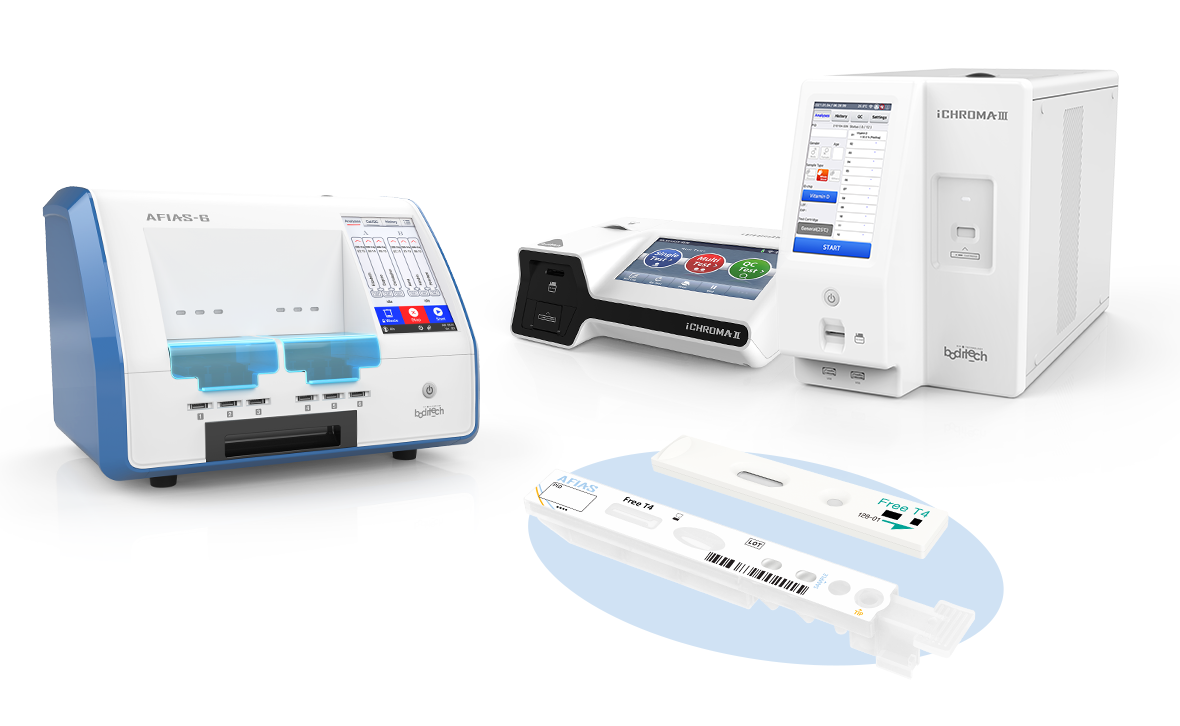 - Free T4 diagnostic kits that accurately check the function of the thyroid gland
- It takes in 12 minutes to get a test result
- Providing the kit as a set with domestic use and export license approved-TSH products in 2014
- Targeting the global thyroid diagnostic market, which is estimated to be worth KRW 3.4 trillion by 2028


We are excited to announce that Boditech Med has obtained the export license from the Ministry of Food and Drug Safety for 'ichroma™ Free T4' and 'AFIAS™ Free T4' diagnostic kits that can quickly and accurately check thyroid function. It can measure the concentration of Free T4, which is known as the most idealistic biomarker for determining whether the thyroid is functioning normally. It is an on-site diagnostic method providing the test result in 12 minutes.
Free T4 is a form of T4, a hormone produced by the thyroid gland, and 0.1% of the total T4 concentration is released in the form of free T4. Especially, as the Free T4 doesn't bind to protein and is constantly maintained in the body, it provides accurate values related to thyroid function.
More than 99% of T4, excluding free T4, is bound to TBG (thyroxine binding globulin), which is a protein responsible for transporting thyroid hormones in the blood or to albumin, a simple protein widely distributed in body fluids. In this case, protein binding may give inaccurate information when measuring thyroid hormone levels. Free T4 has been determined to be the best biomarker to accurately check thyroid function by closing off the possibility of such test errors.
According to SkyQuest Technology Consulting, it reported that the global thyroid diagnosis market was valued at approximately KRW 2.25 trillion last year, and it's expected to grow at an average annual rate of more than 6% which equates to KRW 3.4 trillion won in 2028. This is due to factors such as population aging and increased awareness of early diagnosis of related diseases such as thyroid cancer. The World Health Organization (WHO) reported that there are about 750 million patients suffering from thyroid-related diseases worldwide.
In addition, according to a study on the correlation with thyroid-related diseases and COVID-19, which was published after the COVID-19 pandemic, it was found that patients who have thyroid-related diseases were more vulnerable to COVID-19 infection. As a result, the demand for tests to check and manage thyroid hormone levels has tended to increase worldwide.
Boditech Med is planning to strategically target the thyroid function diagnosis market by supplying the Free T4 and TSH diagnostic kit in a set. Meanwhile, the ichroma™ TSH and AFIAS™ TSH acquired the export license and domestic use in 2014.
Eui-Yul Choi, CEO of Bodiech Med said, "With this export license, we are able to provide a solution that can quickly and accurately check a patient's thyroid function in the global point-of-care testing market. We are striving to secure global supply chains so that ichroma™ Free T4' and AFIAS™ Free T4 can be used worldwide, and we will also try to acquire the approval for domestic use of Free T4 as soon as possible."