PRESS RELEASE
Boditech Med has received the export license of a rapid COVID-19 Neutralizing antibody testing kit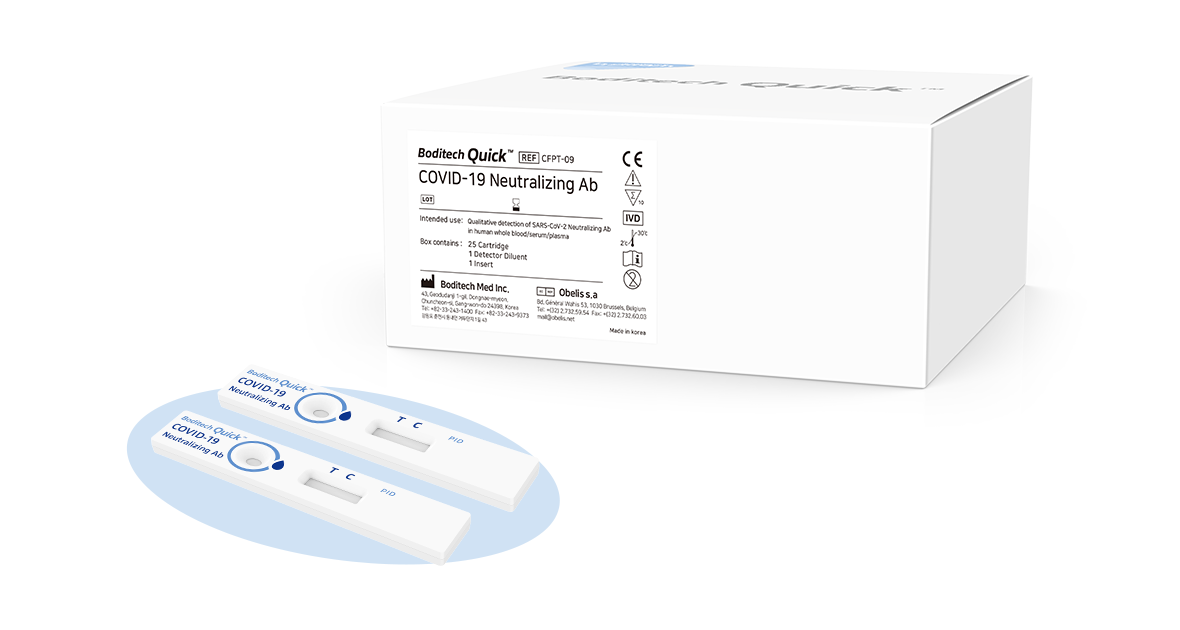 We are pleasured to announce that our rapid testing kit for the diagnosis of COVID-19 Neutralizing Ab has obtained the export license. Boditech Quick™ COVID-19 Neutralizing Ab can measure the activity of neutralizing antibodies in the blood after vaccination with naked eyes within 10 minutes. The sensitivity and specificity of this product are 93.5% and 98.9%, which is compatible with the standard test, PRNT (plaque reduction neutralization test).

COVID-19 Neutralizing antibodies play a key role in the immune system to prevent viruses from multiplying in the body. After vaccination of COVID-19, we can identify the establishment of the immune system and judge the probability of breakthrough infection. Additionally, the level of the neutralizing antibodies may be the index for the timing of the booster shot of COVID-19 vaccination and can be applied for the Green Pass.
With obtaining the export licence, Boditech Med is planning to accelerate the sales activities all over the world. Boditech Med are processing the export registration to LATAM, Southeast Asia, Africa regions and has already completed the CE certification for the European countries.
A company official said, "Boditech Med will launch a new diagnostic platform for the quantitative measurement of RDT next year. While taking the form of self-diagnosis, which is the advantage of the rapid method, it is planned to provide an environment where the doctor can quickly make decisions about the results and improve the accuracy of diagnosis by using the mobile environment."