PRESS RELEASE
Boditech Med has received the export license of AFIAS Golimumab testing kit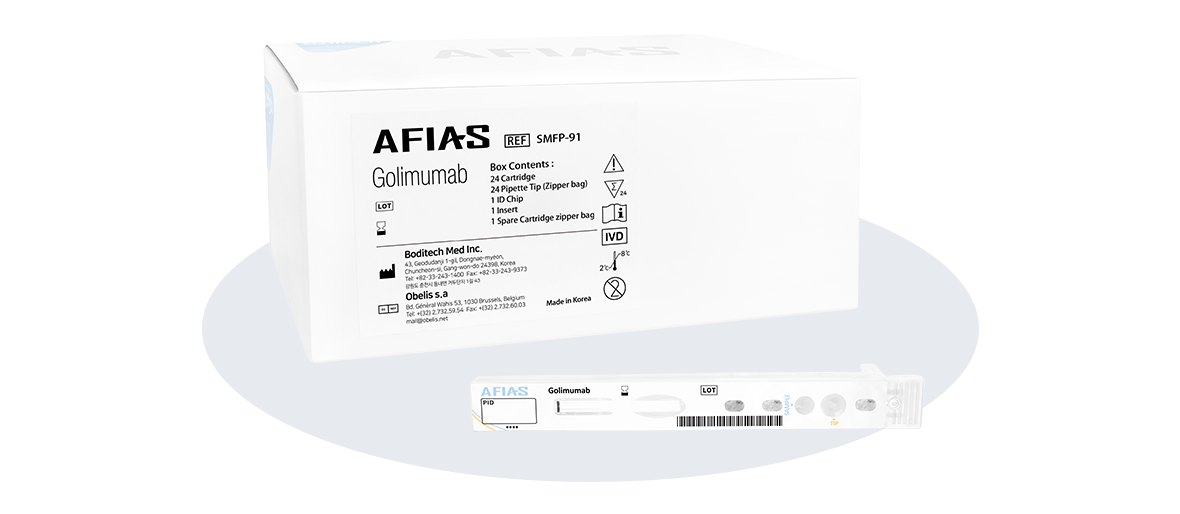 We are excited to announce that Boditech Med's AFIAS Golimumab has obtained the export license. AFIAS Golimumab is a TDM (Therapeutic Drug Monitoring) diagnostic kit, which measures the blood concentration of golimumab which is treated for Rheumatoid Arthritis.

We have been accelerating its entry into the TDM diagnostic kit market since 2019 to secure a new long-term growth plan. The primary target is the global TNF-α inhibitor market represented by HUMIRA® (AbbVIe, substance: Adalimumab), ENBREL® (Amgen, substance: Etanercept), REMICADE® (J&J, substance: Infliximab) and Simponi® (J&J, substance: Golimumab), which is worth more than 40 billion dollars.

Last December, we obtained the export license for TDM diagnostic kit of Infliximab (AFIAS Infliximab, AFIAS Total Anti-Infliximab). Afterwards, in April of this year, we signed a long-term supply contract with Celltrion Healthcare for these two types of diagnostic kits and dedicated equipment used after the prescription of Remsima®. In July, we obtained the export license of AFIAS Adalimumab, a diagnostic kit that measures the blood concentration of adalimumab, which accounts for more than 50% of the TNF-α inhibitor market.

The AFIAS Golimumab can check the patient's condition on site just before administering medicine with AFIAS platform which can be operated automatically within 10 minutes.

A company official said, "we have been developing the diagnostic product lineup for the monitoring of TNF-α inhibitors and we are getting ready to commercialize TDM diagnostic kit for Etanercept. In addition, it is expected that the other TDM products for various therapeutic antibodies will be launched soon".